Kevin grew up in Evart, Michigan and accepted the Lord as his Savior as a 6 year old when he realized his need for Christ after a Wednesday night church service. He attended Cedarville University in Ohio where he met his wife, Julie. Kevin and his wife Julie have been attending Calvary since 2005. Since then, they have been serving in Calvary's Children's Ministry working in the 3's class on Sunday mornings and with the youth on Wednesday nights. Kevin also served as a Deacon for 6 years and has been on the security and finance teams. Kevin and Julie have 4 lovely girls: Jenna, Kelli, Khloe, and Lacey. In 2005, Kevin started his own Software & Product Development Consulting company: KCTechnologies, Inc. located in Harleysville, PA. Kevin enjoys hunting, taking long road trips with his family, working on and fixing things including computers, technology, various home projects, and his old truck. James chapter 1 has always been an encouragement to Kevin, as it reminds us to remain steadfast in our faith, to be a hearer and doer of the word daily, and to encourage others to do the same. One of his life verses is Proverbs 16:9, reminding him that, "The heart of man plans his way, but the Lord establishes his steps." God is always in control.
Rob came to saving faith in Christ as a young participant in the Awana program at Calvary Baptist Church (CBC). At the age of eight, which was the first year his family started attending CBC, he made a profession of faith after hearing a clear message of salvation one Wednesday evening. His mom, Wendy, led him to the Lord after the family got home from church. Rob was baptized and joined CBC as a member many years later (around the year 2001). Rob has worked at RSM US LLP in the audit practice for the past 14 years. RSM is the largest accounting and consulting firm in the U.S. focused on middle-market businesses. He is a partner at the firm and also serve on the national consumer products industry team as the audit line of business leader. Rob resides in Telford with his wife, Rachel, and their two sons – Lucas and Levi.
Children's Ministry Pastor
Forrest left his business in 2017 to become the children's pastor at Calvary. He was led to Christ by his mom on the same night she was saved. Forrest is married to his best friend and partner in ministry, Karen, and they have 5 children and a busy home. Since Forrest was saved as a kid, he has a passion to reach kids with the gospel. He has been involved in kids ministry since his teen years. He traveled as an evangelist with Neighborhood Bible Time during college, receiving kids ministry training from Charles Holmshire. He received his Master of Divinity from Calvary Baptist Seminary and has been speaking at camps, youth retreats, vacation Bible schools, and special church meetings for over 15 years. Ezekiel is his favorite book of the Bible because it is rich, full, and often misunderstood. Forrest loves basketball, smoking meat, and his Spider-man socks.
Jordan joined the pastoral team at Calvary in 2015. He grew up at Calvary and came to know Christ as his Savior at the age of six after hearing his sister testify of her faith in Christ. He served as the assistant camp director at Camp Calvary for 6 years and served as a family pastor for 7 years at a church in Lancaster, PA. Jordan is married to his wife, Ashleigh, and they have three daughters—Peyton, Logan, and Ella. He enjoys refinishing furniture, working on home projects, watching Philly sports, and making up imaginative stories of far away places with his 3 girls. Jordan sites Proverbs 3:5-7 as an important passage of Scripture in his life—it was the first message that he preached in public and is a message he preaches to himself every day. "Trust in the Lord with all your heart, and do not lean on your own understanding. In all your ways acknowledge him, and he will make straight your paths. Be not wise in your own eyes; fear the Lord, and turn away from evil." (Proverbs 3:5-6)
Rob Clarke is a pastor/church planter and missionary team leader. Leaving a successful contracting business in 1992, he began his training for pastoral ministry. He graduated from Calvary Baptist Theological Seminary, Lansdale, Pennsylvania, in 1996. During Rob's seminary training, he served as the ABF teacher and shepherd for the young married couples' class at Calvary Baptist Church. One year before his graduation, Rob was hired by Calvary where he served as an Associate Pastor of Adult Education/Discipleship and Men's Ministry for ten years. During that time, Rob was used of the Lord to build a very active Men's Ministry. He led the Calvary Bible Institute and trained small group leaders and ABF teachers. For the last few years at Calvary, Rob led the pastoral team under Pastor Tim Jordan. In 2004, Rob and his wife, Lee, were directed by God to Asia. There the Lord has used them to plant two international churches (one of which he pastored for twelve years), establish two training centers in their founding city equipping nationals for the ministry, and build a team of eight missionary families who have expanded the ministry into two other Asian cities. In 2009, he started a ministry which is currently training national pastors in several Asian cities, giving opportunity for more than ninety pastor/teachers from the US to participate. He also leads a group of American pastors who function as an advisory board for the training ministry. Rob and Lee have three children. The eldest, their daughter, McKenzie, now lives with her family of six in her husband Nik's hometown in Austria after serving in Asia for twelve years. Their son, Rob and his family of five, have been missionaries in another city in Asia since 2009. Their youngest son, Chris and his family of six, live in Wisconsin. By God's grace, all of his children love the Lord and are faithfully living for Him.
Deacon of Music and Media
Tom's testimony coming soon!
Dave was born and raised in a Christian home. He was saved at the age of 5 and was baptized several years later. He attended Limerick Chapel and Chapel Christian Academy through the beginning of seventh grade. At that time, his family joined Calvary Baptist Church, and Dave enrolled in Calvary Baptist School, where he graduated in 1992. He attended Bob Jones University, and in 1995 he married his wife, Suzanne. The Lord has blessed the Ridges with four children: Landon , Brett , Aubryn , and Maycee . Dave is currently employed as an insurance adjuster with Liberty Mutual Insurance. During his thirty plus years of Dave's membership in Calvary Baptist Church, he has served in a number of areas. These include Camp Calvary, Two-Year-Old's' Class teacher, Junior Church teacher, Youth Group leader & Sunday School teacher, College Age leader & Sunday School teacher, Maintenance, Housekeeping, Security, Deacon, and Usher.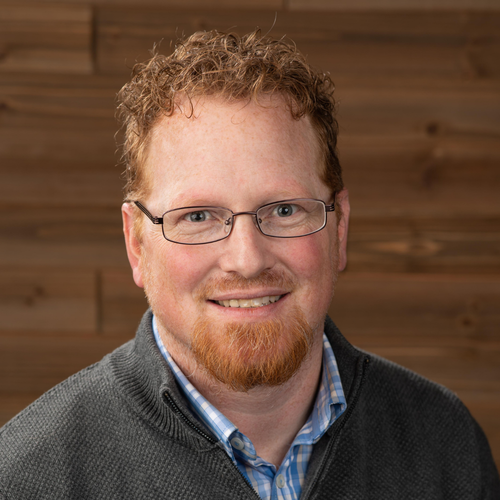 Outreach and Missions Pastor
Steve joined the pastoral team at Calvary in 2018. He grew up at Calvary and came to know Christ as his Savior at the age of seven after hearing a chapel message during a Christian school chapel. Steve served as an assistant pastor at a church in Wisconsin for 10 years and also traveled for Lancaster Bible College as a student recruiter. Steve is married to his wife, Ruth, and they have four children—Haven, Miles, Patrick, and Promise. He enjoys spending time with his family, all things Philly sports, and playing golf whenever he can! A verse that means a lot to Steve is Deuteronomy 7:9 – "Know therefore that the Lord your God is God; He is the faithful God, keeping His covenant of love to a thousand generations of those who love Him and keep His commandments."
Jeff Tuttle grew up in southern Minnesota and came to know Christ as his Savior when he was ten years old. He first visited Calvary Baptist Church in 1969, as part of a traveling quartet from Pillsbury Baptist Bible College. That visit started a life-long relationship with the church. He and his wife Gayle moved to Lansdale and Jeff became the CBC youth pastor when he finished seminary in Minneapolis, MN, in 1974. Jeff joined the Calvary Baptist Seminary founding faculty in 1976, and over the next forty-four years, he and Gayle served in many areas of Calvary's ministry including music, Sunday School, Junior Church, camp, Bible Institute, and missions. The Lord blessed them with four children—Benjamin (wife Sara), Christy (husband Jeremy), Katie, Ryan (wife Silvana)—and seven wonderful grandchildren. Jeff is currently the Stateside Coordinator for a mission work in Asia, and Gayle is a self-employed piano teacher. Jeff's life verse is Acts 20:24 "But I do not account my life of any value nor as precious to myself, if only I may finish my course and the ministry that I received from the Lord Jesus, to testify to the gospel of the grace of God."
Brian has served on the ministry team at Calvary since 1982. He first as the Youth Pastor and then as the full-time director of Camp Calvary since 1995. Brian has been married to his wife, Jean, since 1980, and they have three adult sons—Jeffrey, Scott, and Todd. He put his trust in Christ as his Savior in his early twenties through the influence of Christian friends in his life. His hobbies include playing sports with his sons, playing with his grandchildren, waterskiing, boating, meeting new people, and going new places. Colossians 3:23-24 is a particularly meaningful passage of Scripture to Brian – "Whatever you do, work heartily, as for the Lord and not for men; knowing that from the Lord you will receive the inheritance as your reward. You are serving the Lord Christ." Brian and Jean's desire is to glorify Him and give their all to Him in whatever and wherever He has them.
My parents attended a Bible Conference at Sandy Cove in Maryland when I was around six or seven. The speaker presented the plan of salvation and said that God has children--not grandchildren. The fact that my parents were saved did not mean I was. That night I accepted Jesus as my Savior. A few years later I was baptized and joined the Church. I graduated from North Penn High School, went to LeTourneau College, and spent two years in the military (US Army). I met Erline in Church and in 1969, we were married. We have three children and ten grandchildren. Over the years I have had the privilege to serve as an usher, deacon, and seminary trustee. I am retired from the Clemens Family Corporation where I worked in various capacities. Erline and I enjoy taking two of our grandkids on vacation each year.
Keith's testimony is coming soon!
Nick has been on the ministry team at Calvary since 1989 overseeing the finances, facilities and administrative aspects of the church. He and his wife, Sue, have three adult children. Nick came to know Christ as his Savior at the age of 33 after numerous discussions with believers at different stages of his life. The Phillies, NASCAR, the Eagles, and tinkering with cars are a few of the things that Nick enjoys in his spare time. Psalm 51 has been a special passage of Scripture to Nick, reminding him of the forgiveness provided by Jesus in salvation as well as the grace of daily forgiveness.