We exist to love God, love people, and make disciples of Jesus Christ.
As a local church located in Lansdale, PA, we are called to carry out the Great Commission and the Great Commandment of God. Our mission drives everything we do, from the ministries we provide to the resources we produce. We hope this calling serves as an invitation to actively participate with us in the work of the Lord rather than remain a passive observer.
At Calvary, you can expect to be warmly welcomed no matter who you are or where you are from.
We take worship seriously, but our gathering is relaxed. Feel free to wear what is comfortable for you.
Our gatherings include a mix of both contemporary songs and traditional hymns.
After the music time in our gathering, kids are dismissed to a safe and loving environment where they are taught about Jesus by trained volunteers.
Clear, Biblical Preaching
Our preaching is clear, relevant, and straight from the Bible. We want you to not only know God, but also take Him everywhere you go.
Please wear a mask throughout the morning. With the current state protocols, this is a simple way we can consider one another (while recognizing that varying medical and personal concerns exist on this subject). We understand that some will not be wearing a mask due to a medical condition (including those with respiratory issues that impede breathing, mental health condition, or disability), and will be able to seat you appropriately if needed. Please exercise recommended social distancing. We are asking that you keep your mask on after the service as you leave the building; however, feel free to remove your mask after exiting the building as you practice social distancing while fellowshipping outside.
Calvary Baptist Church was started as Calvary Bible Church in November 1949 with seven (7) members in a rented room above Sloans Music Store. In May 1950, a tent was purchased for $325 and erected on North Broad Street with attendance averaging around 41 people. Later that year the name was changed to Calvary Baptist Church.
The first building at Wood & Derstine was purchased in 1952 for $10,000 as the Lord enabled and blessed. E. Robert Jordan became the first full-time pastor on June 5, 1955 and began leading Calvary in their dynamic growth. With a growing congregation and a need for more space, the Lord provided the opportunity to purchase 9 acres at Sumneytown Pike and Valley Forge Road in 1959. Three (3) years later, an additional 4 acres were acquired to complete our present 13 acre property.
In September of 1968 a larger auditorium was dedicated, and Calvary Baptist Christian School began classes with 118 students. Pastor John Garber was the first principal of this new school with grades from kindergarten through sixth. By 1973, all 12 grades were offered. In 1974, 53 acres in Bernville, PA, were purchased to start Camp Calvary. Camp Calvary is currently open year round with 5,000 campers attending annually.Dr. Tim Jordan to succeed his father as Senior Pastor in 1986 and Dr. E. Robert Jordan became Pastor Emeritus, focusing on the church-planting ministry.
In July of 1999, the church broke ground for the construction of a new seminary library. When this project was completed in 2001, the existing library was converted into a church foyer and welcome center. Also during this time, the auditorium, staff offices, nurseries, and school underwent heavy remodeling. God has richly blessed and used Calvary Baptist Church in powerful ways. But, since the world has not been won over to Christ, our work is not yet done. God has much for us to do in service to Him. We certainly may rejoice, but with no reason to relax in our dedication to disciple our world for Christ.

"Therefore, my beloved brothers, be steadfast, immovable, always abounding in the work of the Lord, knowing that in the Lord your labor is not in vain."
I Corinthians 15:58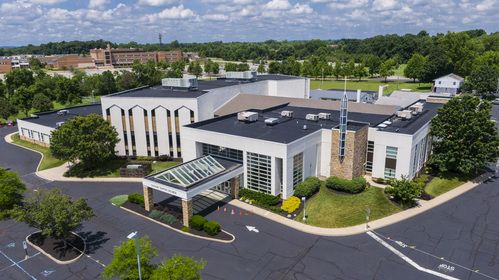 We'd love to hear from you. Fill out the form below to get started.